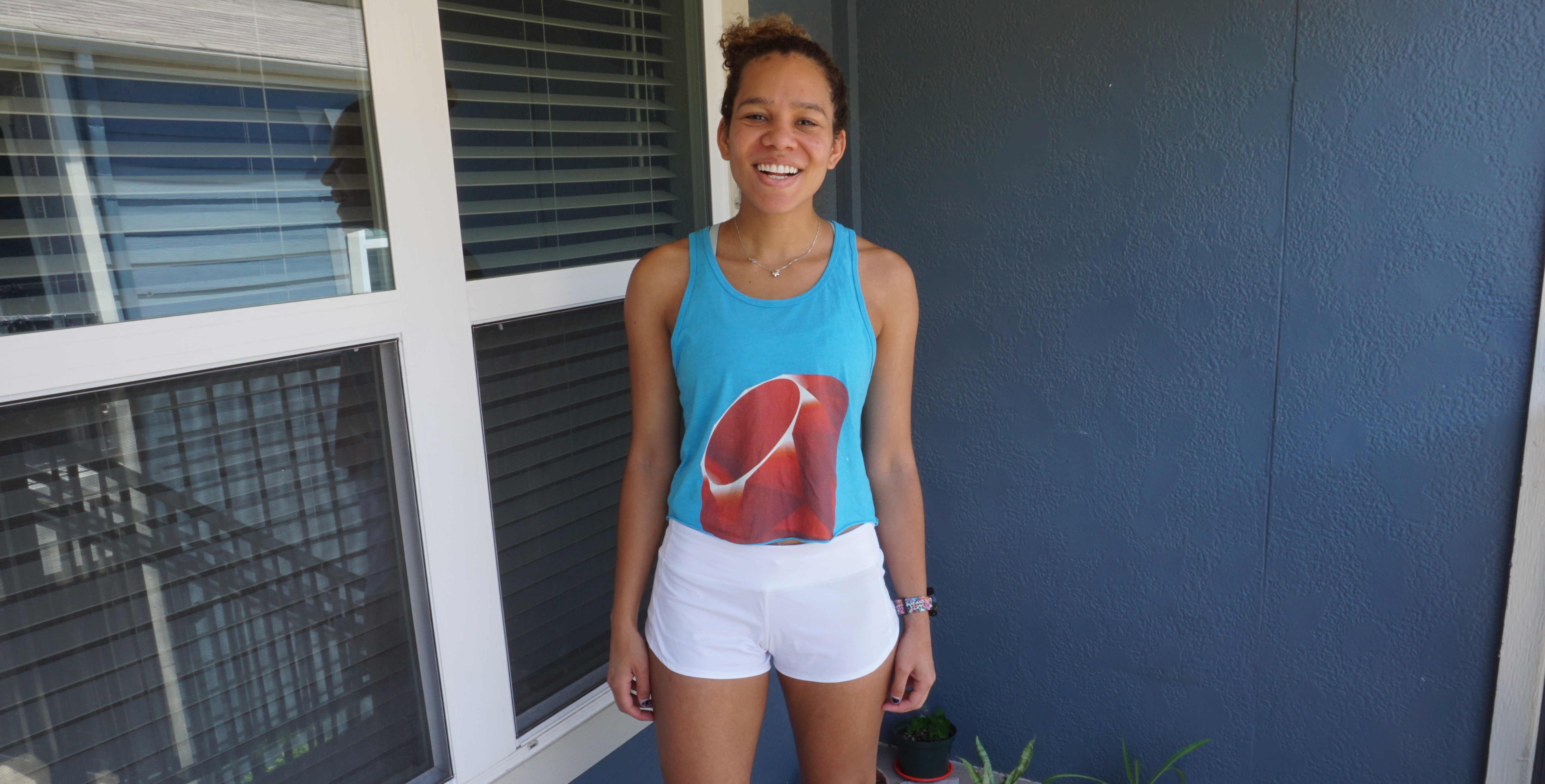 Lululemon Speed Up Shorts (2.5" inseam) Fit Review
About this review
The goal of these reviews is not to provide a definitive "best running shorts" list, but to help others decide whether a pair of shorts might work for them based on what shorts they already own and like, without specific size or weight information, including unedited, real photos. Nobody is paying me to do this or providing me with free or discounted product, I just own a lot of styles of shorts and I'd love to put this knowledge to use.
Want to play along from home? I've made it easier to share how a pair of shorts fit you! Drop a tip here.
Learn more about the project here.
The Product
Brand: Lululemon
Product: Speed Up Short 2.5"
Color(s) shown: White
Pockets: 1
Would I buy them again?
After years of thinking about Lululemon running shorts, and the success I had with the find your pace shorts, I got a discount code through a Strava challenge and decided to jump on one of their most popular styles for the first time. I sized up in these shorts from my expected Lululemon size.
Fit
I'm still new to Lululemon's stuff so I'm getting the hang of how their sizing works. I read around trying to figure out whether Oiselle and Lululemon numerical sizes were comparable, whether the speed up shorts ran larger or smaller than the Find Your Pace shorts, and whether the speed up shorts ran small, and I still had to do an exchange. That's life! I exchanged them for the size I wear in the Groove Pant, which is a size down from what I wore in the Find Your Pace shorts (I made two very, very lucky guesses when I ordered both of those). I sized up in the Speed Up shorts from the size I wear in Oiselle.
Unfortunately, I didn't take a photo of the size down in these shorts before exchanging them, and I think an extra photo might have illustrated how these shorts actually fit. In my expected size, the waist felt a bit tight, but not uncomfortable, just like it was squeezing a bit. The thighs, meanwhile, felt tight, and in what might be a first for me just as a result of how my body is shaped, the butt was actually quite tight. I could have run in them (and admittedly I can't remember how the lining fit) but they felt pretty uncute, and I figured a size up might fix that. The lining cut right across the middle of my butt, so I had a giant pantyline, and frankly, that was a good enough reason to size up as far as I was concerned. As mentioned, I exchanged for the next size and loved them enough to exchange rather than return the shorts. The waist does feel a bit loose (the last time I ran in these I stopped a few miles in to tie the drawcord for a little extra sense of security) but the thigh and butt are my ideal: the butt has enough room without being loose, and the thigh is fairly roomy without the diaper effect. The lining does not dig in at all.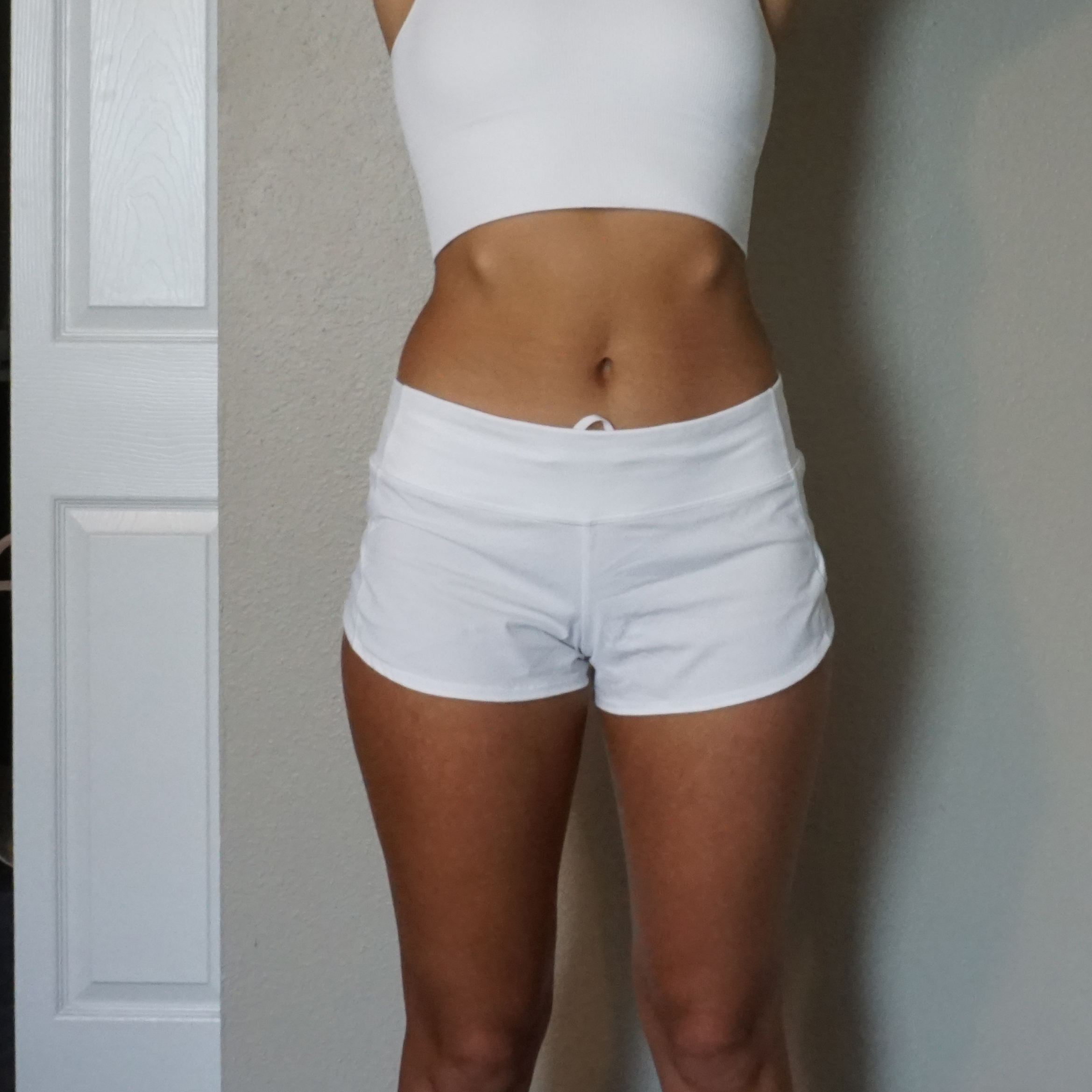 Pros
These shorts are extremely comfortable. The white is not sheer when wet in my experience (I went on a five-mile run in these when it was about 80 out and did a pretty thorough mirror check after coming back drenched in sweat) but I would try them on with printed underwear to double check before you commit. These have a slightly grey-beige lining. Women with significantly lighter skin than me might not love this lining, but I was extremely grateful the lining isn't white or sand, for example, as those would probably have shown through pretty badly against my darker skin when sweaty. The fabric didn't chafe on my five or six runs, but I generally don't chafe on shorter runs. I felt these shorts are a good multitasking pair of running shorts: they're great for running, but unlike a lot of shorts I have (any compression or split shorts, namely) these are appropriate as athleisure. What's more, unlike a lot of running shorts that provide a little more coverage, these are extremely cute casually. As troubled as the brand may be, Lululemon knows how to make running clothing that makes you feel hot. These shorts make me feel attractive, and while maybe that isn't important to you, there's no shame if it is.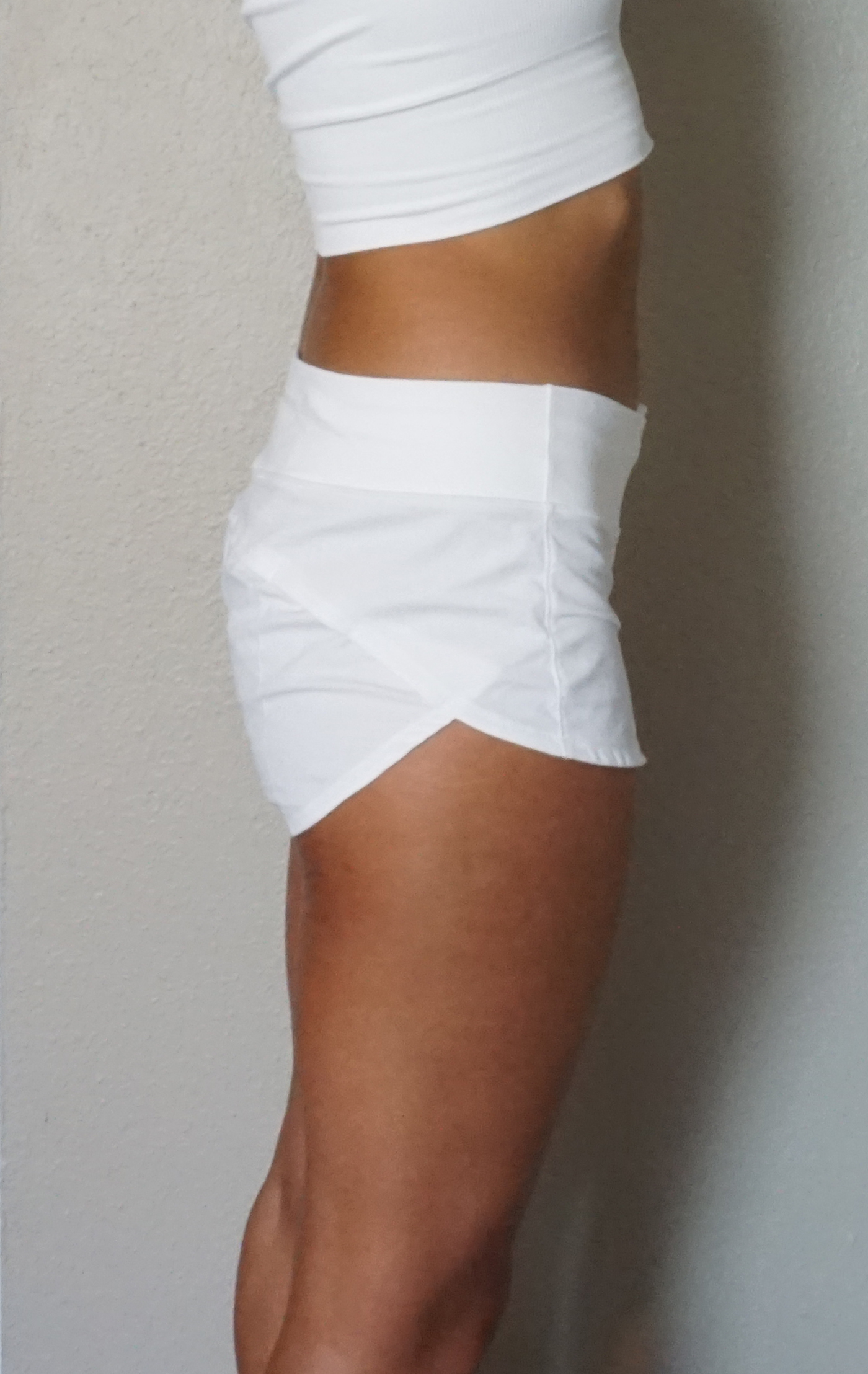 Cons
As I mentioned in the fit section, I struggled a little to get a good fit on these: sizing down would have kept the waist more secure-feeling but squeezed me a little more, creating some bulging at the waist and butt that I can do without. These are perhaps a bit short for some people: I bought them with a 2.5" inseam. If that's too short for you, they also make a 4" variant, I have no idea how those fit, and frankly, I don't anticipate finding out, because that's just longer than I prefer.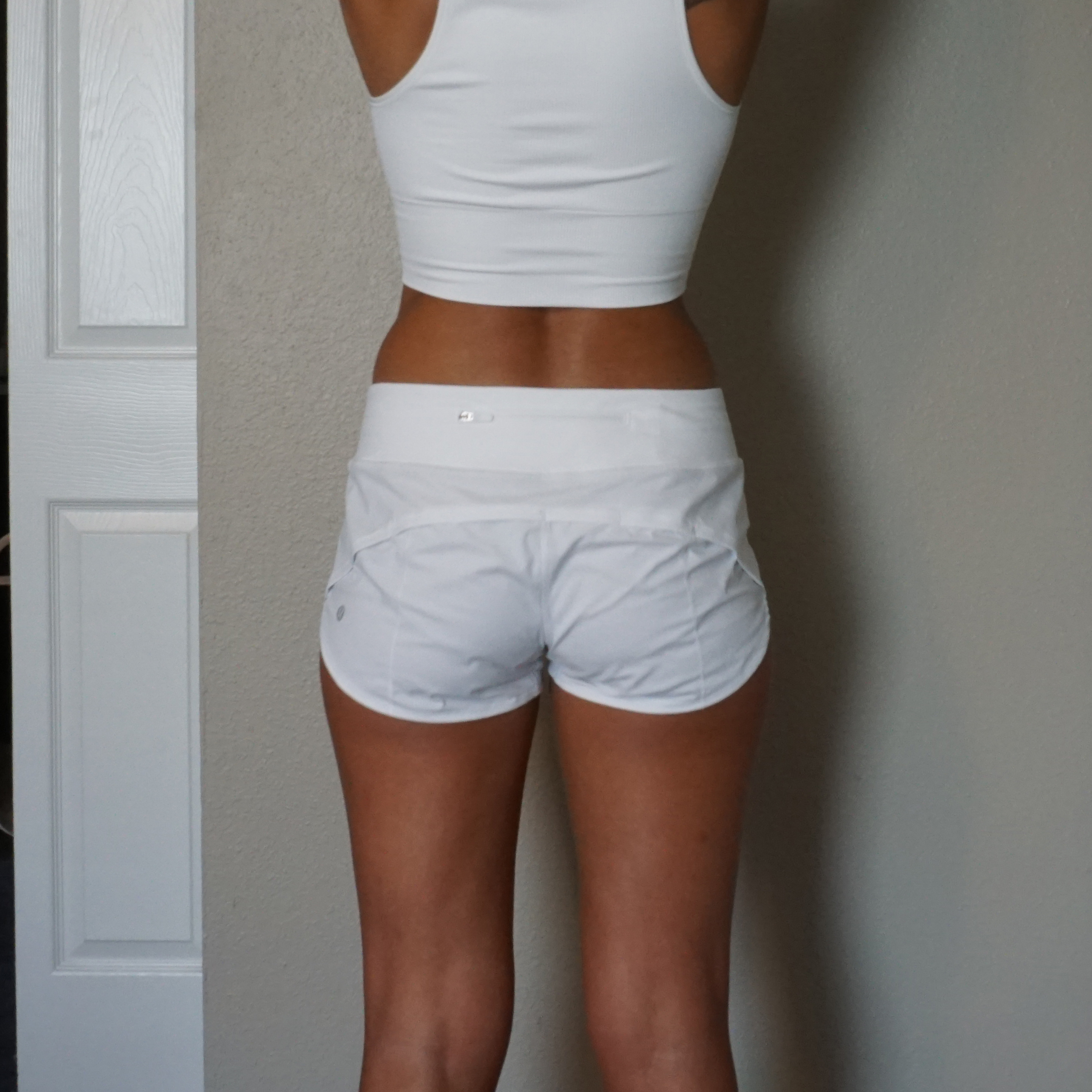 Final notes
I've seen people running in these shorts for years, so I knew more or less what to expect. I'll admit, every time I see a pair of shorts that could be a partial split, I hope they are, and of course I am always dismayed to have my hands on the shorts and realize they're actually tacked down. In this case, they're tacked down, giving you a dolphin hem but, in my opinion, limiting the range of motion a bit in the name of increased coverage. If you're looking for actual splits, I recommend the Lululemon Find Your Pace shorts. These have one decently-sized zippered back pocket along the waistband. The pocket is big enough for bulkier keys or a credit card, and if I thought the shorts would stay up, I could try running with my iPhone X back there. They also have a small in-liner key pocket, which I personally always feel insecure about using.
Do you have the Lululemon Speed Up Short 2.5"? How do they fit you? Drop a tip here.